The Most Common Uses for Carbon Cartridges in Manufacturing
Carbon cartridges play a vital role in the manufacturing industry, offering versatile solutions for various applications. These cartridges are designed to effectively filter and purify air, water, and control volatile organic compounds (VOCs) and odors. In this blog, we will explore the most common uses of carbon cartridges in manufacturing and shed light on their significance.
As manufacturers strive to maintain optimal air quality and ensure the purity of water sources, carbon cartridges have emerged as a reliable choice. With their unique structure and exceptional adsorption capabilities, carbon cartridges can efficiently trap and remove contaminants, pollutants, and unwanted odors. They provide an essential line of defense, improving the overall quality of manufacturing processes and creating a safer working environment.
Throughout this article, we will delve into the working principles, and key features, and highlight real-world examples showcasing the successful implementation of carbon cartridges in the manufacturing industry. By the end, you will have a comprehensive understanding of the significant role these cartridges play and how they contribute to sustainable and efficient manufacturing practices.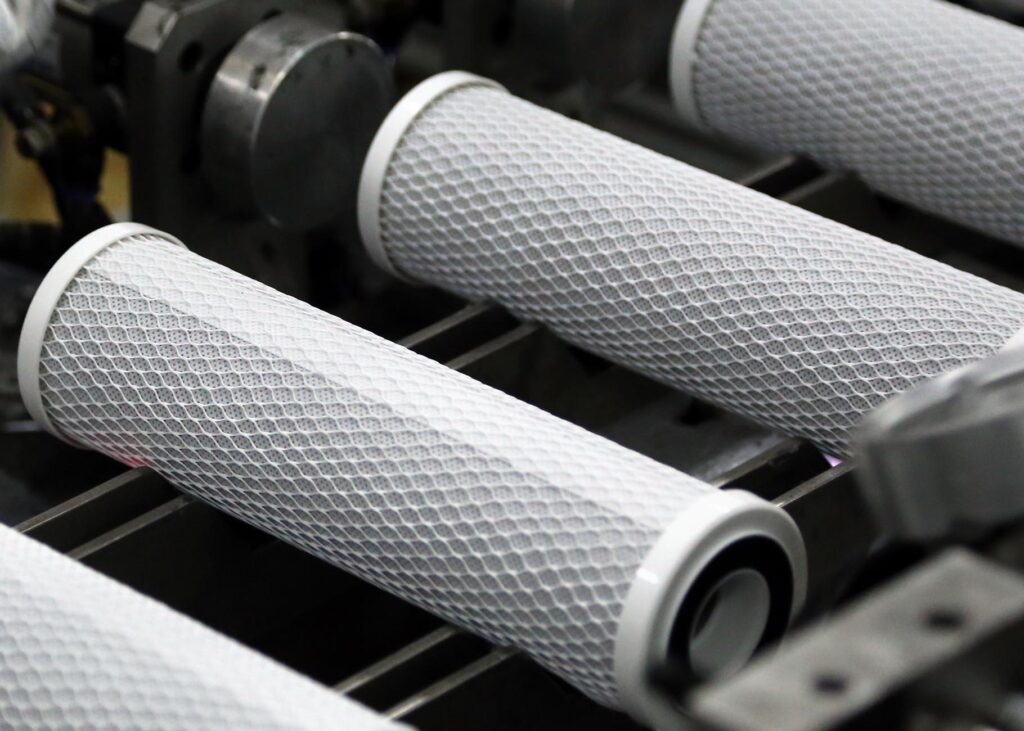 Working Principles and Characteristics of Carbon Cartridges
Carbon cartridges are engineered with specific properties that enable them to effectively remove impurities and contaminants from air and water within the manufacturing industry. Understanding their working principles and characteristics is crucial to grasp the full potential of these filtration solutions.
The basic structure of a carbon filter cartridge consists of activated carbon, which is derived from organic materials like coal, wood, or coconut shells. This activated carbon is highly porous and has a large surface area, providing ample space for adsorption. The microscopic pores within the carbon material attract and trap molecules, allowing for efficient removal of pollutants and odorous substances.
One key characteristic of carbon cartridges is their exceptional adsorption capacity. The activated carbon possesses an affinity for a wide range of impurities, including volatile organic compounds (VOCs), chemicals, and unpleasant odors. As air or water passes through the cartridge, these contaminants are captured and retained within the carbon's porous structure. This results in cleaner and purified air or water output.
Moreover, carbon cartridges offer versatility in their applications. They can be tailored to target specific contaminants based on the manufacturing requirements. For instance, specialized carbon cartridges may be designed to remove specific VOCs or address water quality issues related to particular pollutants. This adaptability makes carbon cartridges highly effective in addressing the unique filtration needs of various manufacturing processes.
In addition to their outstanding filtration capabilities, carbon cartridges are known for their durability and longevity. They can withstand demanding manufacturing environments, ensuring prolonged usage and cost-effectiveness. Regular maintenance and replacement of cartridges are essential to sustain their optimal performance and uphold the desired filtration efficiency.
By comprehending the working principles and characteristics of carbon cartridges, manufacturers can harness their potential to maintain clean air, pure water, and enhanced indoor air quality. These cartridges serve as an integral component in promoting healthier working environments and meeting regulatory standards within the manufacturing industry.
Carbon cartridges are extensively utilized in the manufacturing industry for air purification purposes. They play a crucial role in removing airborne contaminants, particulate matter, and noxious gases. Common applications include:
1. HVAC Systems: Carbon cartridges are integrated into heating, ventilation, and air conditioning (HVAC) systems to improve indoor air quality. They effectively capture and neutralize airborne pollutants such as dust, pollen, mold spores, and allergens, providing cleaner and healthier air for occupants.
2. Paint Booths: In paint booths, carbon cartridges assist in controlling volatile organic compounds (VOCs) emitted during the painting process. These cartridges trap the harmful VOCs, preventing their release into the surrounding environment and minimizing potential health risks for workers.
Carbon cartridges find widespread use in water treatment applications within the manufacturing industry. They contribute to the removal of impurities and the enhancement of water quality. Key applications include:
1. Filtration Systems: Carbon block filter cartridges are employed in filtration systems to eliminate chlorine, sediment, and unpleasant tastes and odors from water sources. They are especially effective in industries such as food and beverage, where water quality is critical for product integrity.
2. Industrial Processes: Carbon cartridges are utilized to remove contaminants and impurities from water used in various industrial processes. They aid in reducing the presence of heavy metals, chemicals, and organic compounds, ensuring the purity and safety of water used in manufacturing operations.
C. VOCs and Odor Control:
Manufacturing processes often generate volatile organic compounds (VOCs) and unpleasant odors, which can impact air quality and worker well-being. Carbon cartridges are employed for VOCs and odor control in applications such as:
1. Chemical Manufacturing: Carbon cartridges are used to adsorb and neutralize VOC emissions in chemical manufacturing facilities. They assist in maintaining a safe and odor-free working environment, protecting workers from potentially harmful substances.
2. Waste Treatment Facilities: Carbon cartridges play a vital role in waste treatment facilities, where they aid in controlling odors generated by waste decomposition. These cartridges effectively capture and eliminate foul odors, ensuring a more pleasant and hygienic working environment.
To provide concrete examples of the successful application of carbon cartridges in the manufacturing industry, let's explore two real case studies highlighting their effectiveness in addressing specific challenges:
A. Case Study: Automotive Manufacturing Facility
In an automotive manufacturing facility, air quality was a significant concern due to the presence of volatile organic compounds (VOCs) emitted from various processes. The facility implemented carbon cartridges within their HVAC system to purify the air and create a healthier working environment. The cartridges effectively adsorbed VOCs, reducing their concentration to permissible levels. As a result, employee well-being improved, and the facility complied with air quality regulations, ensuring a safer and more productive workspace.
B. Case Study: Food Processing Plant
A food processing plant faced water quality issues, specifically regarding taste and odor, which affected the final product's quality. The plant integrated carbon cartridges into their water filtration system to address these concerns. The cartridges efficiently adsorbed chlorine and organic compounds, resulting in improved water taste and odor. The enhanced water quality not only enhanced the flavor of the final products but also contributed to the plant's adherence to stringent food safety standards.


These case studies demonstrate the practical application of carbon cartridges in manufacturing environments. By customizing their usage to address specific challenges, manufacturers can achieve remarkable improvements in air and water quality, ensuring a healthier and more efficient operational setting. These real-world examples illustrate the versatility and effectiveness of carbon cartridges in meeting industry demands and regulations, underscoring their importance in sustainable manufacturing practices.
Industry Trends and Future Developments
The manufacturing industry continues to evolve, driven by technological advancements and a growing emphasis on sustainability. Carbon cartridges, as crucial filtration components, are also subject to ongoing trends and future developments that shape their usage. Here are some key industry trends and potential advancements:
A. Enhanced Filtration Efficiency:
Manufacturers are increasingly demanding carbon cartridges with higher filtration efficiency. Research and development efforts focus on optimizing the design and structure of carbon cartridges to achieve greater adsorption capacity, ensuring the removal of even smaller particles and contaminants. This trend leads to improved air and water quality standards within manufacturing processes.
B. Integration of IoT and Automation:
The integration of Internet of Things (IoT) technology and automation is transforming the manufacturing industry. This includes the application of smart sensors and monitoring systems to carbon cartridges. Real-time data collection and analysis enable proactive maintenance and replacement, ensuring optimal performance and prolonging the lifespan of the cartridges. Such advancements enhance operational efficiency and reduce downtime.
C. Sustainability and Circular Economy
As sustainability becomes a top priority, manufacturers are adopting a circular economy approach. This involves the use of renewable and eco-friendly materials for carbon cartridges, such as bio-based activated carbon. Additionally, efforts are being made to develop efficient regeneration techniques to extend the lifespan of cartridges and minimize waste. These sustainable practices align with the industry's commitment to reducing environmental impact.
D. Nanotechnology Integration:
Nanotechnology holds promise for future developments in carbon cartridges. By incorporating nanomaterials, such as graphene-based filters, carbon cartridges can potentially exhibit enhanced adsorption capabilities and improved durability. These advancements may offer breakthrough solutions for addressing complex contaminants and further refining the purification process.
In conclusion, carbon cartridges are indispensable components in the manufacturing industry, offering versatile solutions for air purification, water treatment, and VOCs and odor control. Their efficient adsorption capabilities and wide applicability make them an essential tool in maintaining clean and safe working environments while meeting regulatory standards.
As industry trends evolve, advancements in carbon cartridge technology continue to enhance filtration efficiency, integrate IoT and automation, promote sustainability, and explore nanotechnology integration. These developments pave the way for more effective and eco-friendly filtration solutions in the future.
For reliable and high-quality carbon cartridges, Huatan Filtration stands out as a leading carbon filter cartridge manufacturer in China. With their expertise and commitment to innovation, Huatan Filtration provides customized solutions tailored to meet the specific filtration needs of the manufacturing industry.
Invest in the power of carbon cartridges and experience the transformative benefits they bring to your manufacturing processes. Trust Huatan Filtration, the leading carbon filter cartridge manufacturer in China, to deliver reliable and innovative solutions. Contact Huatan Filtration now to discuss your filtration needs and unlock the potential of carbon cartridges in your industry.
Get in Touch With Huatan
Take your business to the next level with HUATAN, a trusted manufacturer of carbon block water filter cartridges in China. We're here to help you succeed and provide the support you need.
Contact Now